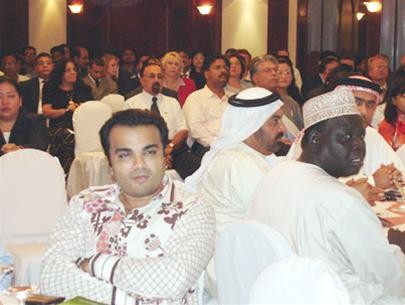 Vietnamese and the Emirates investors are at the workshop between Viet Nam-UAE businesses in Dubai, June, 2006
Big investors from the United Arab Emirates (UAE) are coming to Viet Nam with potential investment projects worth billions of dollars. Some Vietnamese businesses are ecstatic.
Million-dollar projects
Bruce A. Khalili, director of Millennium Airport Hotel Dubai, UAE, arrived in Viet Nam early September this year.

During a talk with reporters he released his trip was of the prospecting sort as he has begun preparing for big projects in the country.
"Viet Nam's fast-growing economy plus stable politics and young population have led me to choose Viet Nam as new destination for investment", he said.
Bruce A. Khalili is also representative of Dolphin Airline - a private carrier - in charge of investment in Asia.
In the beginning, he said Dophin would open direct flights from Dubai to Ho Chi Minh City. And in the succeeding years, Dophin and several UAE-based real estate companies will be investors in a chain of luxurious hotels and resorts along the southern coastal line.
Previously, another real estate company, Sama Dubai, opted to pour VND400 billion into the construction of Cua Dai bridge in the central coastal province of Quang Nam.
But Ho Chi Minh City seems to be the real apple of investors' eye.

Sama Dubai is also eyeing investment in the Thu Thiem urban center, just a few steps from downtown HCM City, as well as a shipping project in the city. The value of the two potential projects totals US$4.3 billion.
Mohammad Sharaf, CEO of the Dubai Ports World, has also released that his company will spend US$3.5 billion on five big ports around the world, one in Viet Nam.
The call for Middle East investors
The increasing global petroleum price is up to US$70 a barrel, from US$20 three years ago. This has brought a huge profit of hundreds of billions of dollars to traders in the Middle East.
The mountain of money has urged investors think of many new investment projects in foreign countries.
The capital flow from the Emirates to foreign markets has increased more than ever over the past few years.

The UEA government has recently inked deals worth US$12 billion with Morocco. Viet Nam may be the next.
At the recent workshop between Viet Nam-UAE businesses in Dubai last June, Viet Nam was evaluated as a hot spot in the eyes of the Emirates' investors.
This is good chance for Viet Nam to attract investment capital for domestic projects as the UAE is rich in financial resources.
However, some nations in the Middle East do not yet know about Viet Nam's trading policies and its advantages and disadvantages.
It's high time that Viet Nam government added the Emirates to its list of potential markets to be taken advantage of soon, otherwise, they will loose the opportunity to more aggressive suitors.