Some businesses that are not under the price subsidized program have suddenly hiked the price of chicken and duck eggs, despite a steady and abundant supply in Ho Chi Minh City.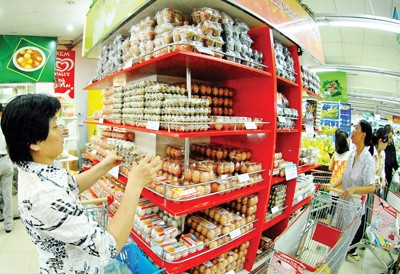 HCMC will have an adequate supply of chicken eggs during Tet (Photo: SGGP)
To discuss this sudden increase of egg prices, the Department of Industry and Trade in HCMC on January 11 held a meeting with various other departments. At the meeting, delegates concluded that the hike was unreasonable as supply was both stable and abundant.
Nguyen Nguyen Phuong, head of the Commercial Management Division under the Department of Industry and Trade, said that the price has been going up every day since Solar New Year.
After January 9, price of a pack of ten eggs went up VND2,000-3,000, and continued to surge by VND1,000-2,000 the two following days.
Chicken eggs at the CP Company have risen by VND3,000 to reach VND29,300-29,600 for ten eggs, which is VND4,000-6,000 higher than the subsidized price.
Under the City's price subsided program, the cost is VND23,500 for ten chicken eggs and VND30,500 for ten duck eggs.
Le Thi Ngoc Dao, deputy director of the Department of Industry and Trade, said that by the end of December, the egg supply in the City had reached 3.1 million a day and at present is 3.05 million a day.
The egg supply by large businesses like Ba Huan, Thanh Vinh Dat is still stable under the price subsidized program. The demand for eggs at large supermarket chains like Saigon Co.op, Vinatex, Satra, Maximark, Citimart has surged by 30-50 percent.
Dao confirmed there is no scarcity of eggs--one of the reasons for a price increase.
According to the Department of Agriculture and Rural Development in HCMC and poultry breeders associations in neighboring provinces, the price of poultry feed is quite steady. Businesses are paying breeders only VND1,500-1,550 an egg.
According to a breeding enterprise, farms are now profiting at VND1,600 per chicken egg, which does not justify the sudden and continuous increase in the price of eggs recently.
At the meeting, departments confirmed abundant and steady supply of eggs from now until the Tet festival. Consumers should buy eggs at supermarkets and shops under the price subsidized program.
HCMC is expected to work with neighboring provinces of Binh Duong and Dong Nai to have a meeting with CP and Emivest Companies on January 14 to clarify reasons for the price increase.
Le Ngoc Dao added that if egg prices do not reduce in the next few days, the Domestic Market Department under the Ministry of Industry and Trade might grant quotas to businesses to import eggs.
According to the Trai Viet Company, who specializes in export-import of eggs, if the ministry permits businesses to import eggs, it will take only 3-4 days for them to arrive in Vietnam. The price of imported eggs will be about VND20,000 for a pack of ten.
Dao Thi Lan Huong, director of the Department of Finance in HCMC, said it is unacceptable that some businesses have pushed the price up by VND8,500 per ten eggs, within just a week. The City will ask them to explain the price increase and will propose to authorized organs to deal with them if they fail to present a sound reason.
From now until Tet Lunar New Year, HCMC will fix the subsidized price of a chicken egg at VND23,500 and duck egg at VND30,500 per pack of ten.