Vietnamese farmers and businesses are experiencing very unstable trade with Chinese traders who pay very high for farm produce they need, but when the commodity is in surplus the price drops.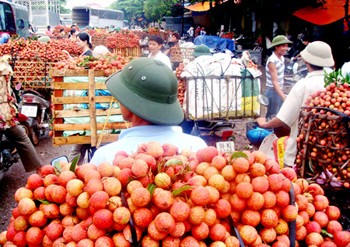 Farmers in Bac Giang Province worry their litchi crop will sell at low rates to Chinese traders despite bumper crops (Photo: SGGP)
According to the Mong Cai Animal Quarantine Station in the northern province of Quang Ninh, since early this year, Chinese traders have paid high prices for pigs in Vietnam. This has caused imbalances in supply and demand, hiking pork prices for several consecutive months.
Chinese traders don't just buy from Vietnamese traders but purchase female and sucking pigs directly from the Mekong Delta provinces.
Hoang Kim Giao, head of the Livestock Breeding Department says that Chinese traders hunt down pigs in Vietnam because food prices in their country have increased and necessary commodities are scarce.
Chinese traders not only come looking for pigs they also purchase sliced cassava which has shot up the product's price.
Le Ba Lich, chairman of Vietnam Feed Association said that because Chinese traders have purchased cassava, domestic feed producers have faced a shortage. Every day, hundreds of trucks transport cassava to border gates in the north.
The skyrocketing of cassava prices, from VND1, 500/2,000 to 5,000/6,000 a kilogram now, has pushed the feed price up too. This together with an increase of pork prices has raised prices of other food items as well, affecting price stabilization in Vietnam, Lich added.
Tan Thanh Border Gate regularly see fruits like watermelon, dragon fruit, litchi and banana pile up to sell to Chinese who usually pay very low when the supply is abundant. 
At such low prices, many businesses don't dare to sell due to losses. However, only one or two days later, the fruit begins to rot and they are forced to sell at very low prices set by Chinese traders. 
Monitor supply
According to Nguyen Tri Ngoc, head of the Cultivation Department, farmers must not be influenced by the temporary high prices offered by Chinese traders into farming a particular crop only. Earlier, when cassava prices rocketed, several farmers transferred to growing cassava from coffee and sugar cane. 
Lich said relevant authorities should have legal barriers to limit the purchase of cassava by Chinese traders as it might affect feed producers.
Nguyen Do Anh Tuan from the Ministry of Agriculture and Rural Development says to protect farmers from low prices set by Chinese traders; the state must monitor the supply of farm produce in order to provide domestic farmers and businesses with information on the market.
Every year, relevant authorities should advice farmers on plants to grow and acreage to cover to ensure profits for them. Information on the sale of fruits at border gates should be updated so that businesses do not bring more fruit than required to save produce from rotting.