Incessant rain and the oncoming flooding season have Mekong Delta farmers worried about how they will stock their fall-winter paddy harvest.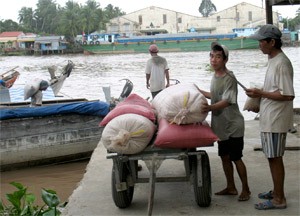 Paddy traded at a wharf in Can Tho City (Photo: SGGP)
Their warehouses are already stocked with unsold paddy from the summer-fall harvest.
 
After a prime ministerial directive, Vietnamese exporters have purchased more rice from the farmers, but this volume has not been sufficient to clear the stocks, and farmers have continued to harvest. 
 
The delta province of Long An has harvested 200,000 hectares of summer-fall rice crop and now has 500,000 tons of unhusked rice in stock.
 
Kien Giang Province has harvested 996,000 tons in the summer-fall crop, but only half of it has been purchased.
 
At present, companies buy only rice, not paddy, so the farmers are dependant on traders to sell about 90 percent of their paddy, or unhusked rice.
 
The companies themselves have huge quantities of rice stocked, and their capacity to buy more is limited.
 
Pham Minh So, an official of the Song Hau Food Company under the Southern Food Corporation, said his firm had bought 150-200 tons of rice per day after the prime ministerial directive, marking an increase of 30-40 percent compared to earlier.
 
However, it is only able to buy quantities less than 20 tons per day at lower prices now because the quality of rice is not good, as it is damp and has turned yellow.
 
Prices of rice and unhusked rice have dropped sharply in the Mekong Delta. Five-percent-broken rice is currently traded at VND6,000 per kilogram, 15-percent-broken rice is priced at VND5,400-5,500 per kilogram, and 25-percent-broken rice fetches VND5,200-5,300 per kilogram. Dried unhusked rice goes for VND4,100-4,300 per kilogram and wet paddy costs VND3,000-3,200 per kilogram.