Despite the government's call to 'Be Vietnamese Buy Vietnamese'--an effort to help domestic enterprises expand in the consumer market--some sectors like the textile and garment industry have failed to tap potential in many segments which look promising.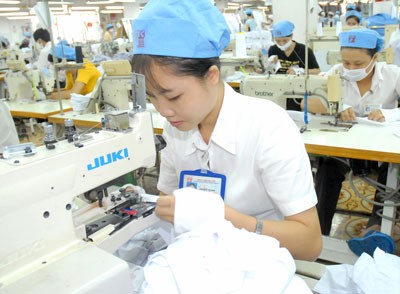 The local textile and garment sector has not yet tapped all segments in the domestic market (Photo: SGGP)
Home textile and garment firms have not focused on children's clothes in the age group from 7-12. Vietnamese parents nowadays have 1-2 children and want to give their children the very best of things and don't hesitate in spending large sums on items such as clothes.
However, the local textile and garment firms have been disappointing and hence there is a huge void in this segment which is being filled by foreign made children's clothes, mainly being brought into the country in small quantities by tourist agents or flight attendants.
Prices of these clothes are not cheap. For instance, an outfit for a nine-year-old boy costs from VND300,000-VND500,000 (US$14.39-$24) and a girl's dress can cost upto VND800,000 ($38) or more.
Mrs. Tram, an assistant at a children's clothes store on Xo Viet Nghe Tinh Street in Binh Thanh District, said the store was opened three years ago and such clothes have done well recently. The store imports goods from Hong Kong once a week so it has new designs and most of the customers are people with an average income who look for good designs and material rather than prices.
Meanwhile, people of a lower income usually choose Chinese-made clothes at cheaper rates and an assortment of designs.
Similarly, Chinese-made underwear for females is available in markets across Vietnam and is very popular as it is cheap at VND20,000-VND50,000, while domestic made bras are priced at VND100,000-VND250,000 a piece.
Most Vietnamese bras are displayed in supermarkets and some famous brands have established distribution networks in many districts. However, this segment is taken by international brands such as Triumph, Pierre Cardin, Bon Bon and La Senza.
The country has more than 2,000 textile and garment firms which have no interest in making bras. According to a company, to manufacture a bra, it needs 20 subsidiary materials plus wages of VND25,000 per bra, with the cheapest sale price being VND60,000, excluding tax. In any case, Vietnamese-made bra cannot be cheaper than Chinese-made bras.
Moreover, an investment for an assembly production line costs hundreds of dollars and training workers takes a long time as making a bra needs skilled workers. As a result, Chinese-made bras that were embedded with strange pills were selling across the country, and authorities cannot do anything as customers with low incomes have no choice but to buy these low priced bras.
The Vietnamese textile and garment sector has not exploited local markets in such important segments, which raises the question whether Vietnamese commodities can meet all demands and whether the problem can be resolved with government help.