It is the middle of July, the peak salt production season, but unseasonable rains in the central region have delayed the harvest by 20 days.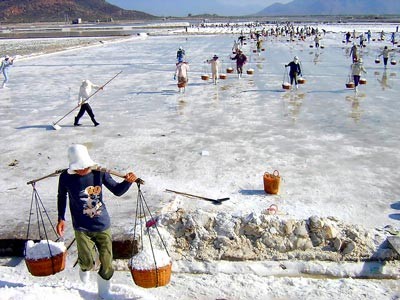 Farmers harvest salt in the central province of Ninh Thuan. Unseasonable rains this year have decimated production in the central region (Photo: SGGP)
Despite of high salt prices, producers do not have enough to supply to the market.
Nguyen Van Hanh of Khanh Hoa Province used to breed shrimp but since it was not profitable, he switched to salt production.
Looking at his two-hectare salt field, Hanh said at this time the previous year, it was white with salt and people were busy raking and carrying the salt and pumping water into the field.
He had harvested over 20 tons, but this year he is yet to produce three tons since it has been raining non-stop.
To make salt, producers let sea water flood the fields at high tide. The fields have high mud dikes that retain the water which evaporates in 15 days, leaving behind salt.
But this can be done only four or five months a year when there is no rain.
Last year salt prices were high and many farmers borrowed money to expand the area under salt.
In Ninh Thuan Province, the country's largest salt producing area, farmers have been hit hard by the unseasonable rain. In Ninh Hai District, the salt fields are under water.
Binh Dinh Province has around 270 hectares of salt fields but only about 4,000 tons have been harvested this year, almost 10,000 tons lower than in the same period in normal years.
More than 2,000 families depend on this for their livelihoods.
Prices up

Salt prices have shot up in the central region. In Binh Dinh and Quang Ngai Provinces, traders are buying at VND1,400 to 1,700 a kilogram, 50 percent higher than last year.
Processing companies are facing a severe shortage of salt.
Ho Nghinh, deputy director of Vinh Hao salt company in Binh Thuan Province, said salt output has fallen by half from last year's period.
Since the end of April, his company has not bought a grain of salt, he said.
The Ninh Thuan Province Department of Agriculture and Rural Development said salt output was just 50,400 tons by the end of May, 47 percent lower than in the same period last year.
The province would not achieve the target of 200,000 tons this year, it added.
Nguyen Quang Khai, director of an iodized salt making factory in Binh Dinh, said in the first half his factory had bought 2,500 tons, or 15 percent lower than in the same period last year, despite increasing the price to VND1,600 to 1,700 a kilogram.