Singapore's United Overseas Bank (UOB) has reached an agreement with Viet Nam's Southern Bank to become a strategic investor in the Vietnamese bank.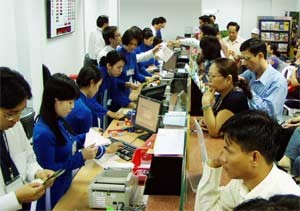 Banking is developing strongly in Viet Nam, which became the 150th WTO member this January (Photo: Tuong Thuy)
The Vietnamese bank said the State Bank of Viet Nam's Ho Chi Minh City Branch has given the green light to the deal, which is still waiting for the State Bank's official approval.

The Southern Bank and UOB are working on the final contract. UOB has pledged that as a strategic partner, it would support the Southern Bank to further develop its services and improve management in general, including corporate management and risk management.
The Ho Chi Minh City-based Southern Bank is a joint stock commercial bank with capital of about VND1,3 trillion (about US$80.74 million, current exchange rate). It plans to pay a dividend yield of 28% to its shareholders for 2006.
When UOB ink the investment contract, it will be following in the footsteps of another Singapore bank.
Last year, Oversea-Chinese Banking Corp. bought a 10 percent stake in the Vietnam Joint Stock Commercial Bank for Private Enterprises for about S$25 million.
The Southern Bank also plans to sell its stocks to other foreign investors including the US-based Cathay Bank.