According to Association of Seafood Exporters of Vietnam, the Department of Commerce in the US has announced a preliminary anti-dumping tariff for Vietnamese shrimp exports, valid from February 2011 to January 2012.
Under the new tariff, there will be a zero percent tax during this period.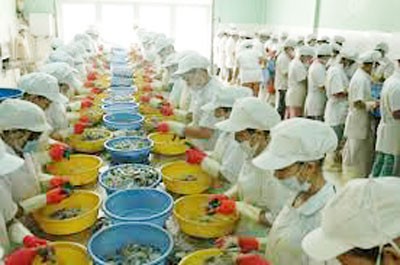 Shrimp processing at an export company (Photo: SGGP)
This is the first time in the history of the US Department of Commerce to officially acknowledge that Vietnamese shrimp exporters to the U.S were not engaged in dumping activities.
This decision brings much hope for shrimp exports from Vietnam in context of the current economic downturn.
The two defendants, Minh Phu Seafood Corporation and Nha Trang Joint Stock Seafood Company will now enjoy a zero percent tax rate for the period, as will other companies involved in the administrative review.
According to Vietnam Association of Seafood Exporters and Producers, the move will open up greater prospects for Vietnamese shrimp businesses in the face of current crisis.
The US remains the second biggest market for Vietnamese shrimp exports in 2012, second only to Japan, with exports reaching US$454 million and accounting for more than 20 percent of Vietnam's shrimp export volume.
The US surpassed Japan to become the largest importer of Vietnamese shrimp in January this year, achieving 37 percent growth as against the same period last year.