The US Department of Commerce (DOC) has chosen Indonesia to set anti-dumping taxes of Vietnamese tra fish.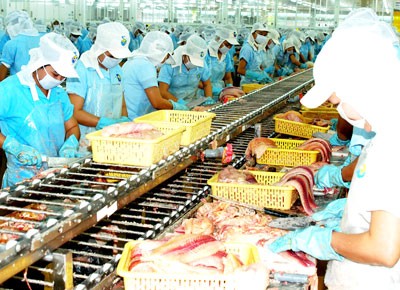 A tra fish processing plant in Ca Mau Province (Photo: SGGP)
This causes disadvantages for Vietnamese exporters, according to Vietnam Association of Seafood Exporters and Producers (VASEP). Taxes have been set as high as US $2.11 per kilogram.
DOC announced its final decision for the ninth result of administrative review (POR9) for anti-dumping duties on Tra fish fillets imported from Vietnam on March 31, according to VASEP.
Products of two companies, Vinh Hoan and Hung Vuong, are taxed US$0.03 per kilogram and US$1.2 per kilogram. The rate is US$0.42 per kilogram for 11 other companies.
Vietnam tra fish export to the US does not threaten their mudfish industry, according to the association.