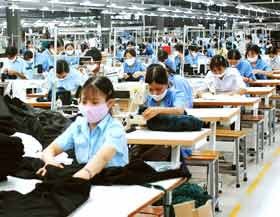 Vietnamese workers produce apparels
American apparel importers have shifted from China to Viet Nam where production cost is lower, thus increasing imports from Vietnamese suppliers, according to the Viet Nam Textile and Apparel Association.
Chinese apparel imports to the U.S. have decreased almost 10% in the early months this year, according to U.S. statistics. Meanwhile, Vietnamese imports have increased 31% by revenue in the first quarter of the year.
American importers are moving their orders to countries with lower production cost, therefore exports from Mexico, Sri Lanka and the Philippines have fallen considerably.