U.S. Commerce Secretary Carlos M. Gutierrez will lead the USA's first-ever Secretarial Business Development Mission to Viet Nam early next month to expand trade between the two nations and highlight export opportunities for U.S. producers.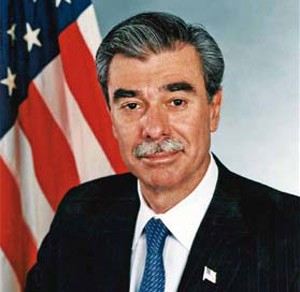 U.S. Commerce Secretary Carlos M.Gutierrez
There will be 23 leading American companies joining the mission to Ha Noi and Ho Chi Minh City from November 4 to 8, the public affairs section of the US consulate general in HCMC says in a statement.
 
"Viet Nam is an exciting new market that is providing opportunities for American businesses, manufacturers, and service providers," said Gutierrez. "I look forward to leading a delegation of U.S. businesses to Vietnam so our companies can explore export opportunities for American goods and services that create higher paying American jobs here at home."
The participating companies are active in a range of industries and have a strong interest in doing business in Viet Nam, one of the world's fastest growing economies.
They will find ways to expand the market share of U.S. companies doing business here, especially now that Viet Nam has joined the World Trade Organization.
The mission will help U.S companies develop business and government contacts, solidify business strategies and obtain market access information. This opportunity also provides a platform for addressing policy and commercial issues including transparency, trading and distribution rights, the consulate says in the statement.
After the U.S.-Viet Nam Bilateral Trade Agreement came into force in 2001, two-way trade between the two countries leapt from US$1.5 billion to US$9.7 billion in 2006.
U.S. service suppliers now enjoy improved market access in Viet Nam in many significant sectors, including telecommunications, financial services, distribution and energy services.
The mission participants include 3M, Abaxis, Alcoa, Altec, Baxter International, Carus Corporation, Century Aluminum, Crown Equipment, Cummins, Eaton Corporation, Gannon International, Marriott International, Dow Chemicals and the Ford Motor Company.