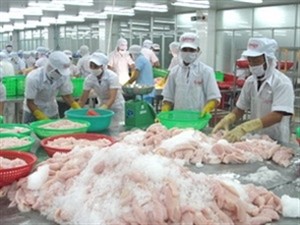 Vietnam News Agency file photo shows a catfish processing factory in Vietnam
The US Department of Agriculture (USDA) has said it would collect more opinions until June 24, 2011, before determining which species must undergo the "catfish" inspection programme.
USDA said in a press release on Feb. 18 that the Food, Conservation and Energy Act of 2008, known as the 2008 Farm Bill, requires the department to define the term "catfish" for this new inspection programme.
Hence, USDA provided two options for the definition of "catfish" and seeks public comment on the issue. One option is the current labelling definition in the 2002 Farm Bill, which includes all species in the family "Ictaluridae". The other option is to define "catfish" as all species in the order "Siluriformes", including the three families typically found in human food channels, including "Ictaluridae", "Pangsiidae"and "Clariidae".
USDA also set out the new requirements that will apply to "catfish" produced in or imported to the US. Among these requirements is that products labelled as "catfish" must bear either a mark of inspection of USDA's Food Safety and Inspection Service (FSIS) or a mark of inspection from the country from which they were exported.
During the inspection programme, FSIS will focus on factors affecting the safety of the product being produced, such as water quality and feed.
The 2008 Farm Bill expanded the definition of "catfish", including Vietnam's tra fish, and brought "catfish" into the list of species under management of USDA instead of the US Food and Drug Administration.
The move went counter to the previous regulations under which USDA had not considered Vietnam's tra fish as "catfish" and Vietnam's tra fish were not permitted to be labelled as "catfish" when being exported to the US.
Industry insiders said the US's new bill aims to protect the domestic "catfish" industry and hamper Vietnam's tra fish exports. It also threatens to derail US-Vietnam trade relations.