The Ho Chi Minh City Party Committee Secretary Dinh La Thang receipted Mr. Arun Kumar, an assistant secretary of the United States department of commerce on July 18.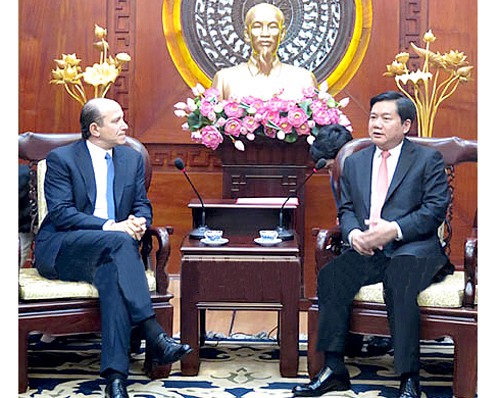 The Ho Chi Minh City Party Committee Secretary Dinh La Thang (R) receipts the U. S representative investor. (Photo:SGGP)
At the reception, the city Party Chief highly appreciated comprehensive partnership between Vietnam and U.S in all fields confirming that many U.S enterprises will invest in the projects in Vietnam and HCMC after Trans-Pacific Partnership (TPP) Agreement goes into effect.
Currently, Ho Chi Minh City focuses on key programs, including wastewater treatment, environment clean and anti- flooding. Besides, the city is ready to create more favorable conditions for U.S enterprises to be able to invest in the hub, added Mr. Thang.
Mr. Arun Kumar said that U.S companies are also willing to join in investment projects in Ho Chi Minh City, especially projects of infrastructure development and wastewater treatment hoping that Vietnam will mark new development steps in next years.
On the same day, the city Party Chief met Mrs. Josephine Teo, Senior Minister of State of Singaporean Prime Minister's Office as she arrived to pay a courtesy to the city leaders.
At the meeting, Mr. Thang highly appreciated Vietnam- Singapore strategic partnership as well as construction models of Vietnam- Singapore industrial parks; and affirmed that the city always supports and creates the best favorable investment condition for Singaporean enterprises.
On the same day, the Ho Chi Minh City People's Committee Chairman Nguyen Thanh Phong received Mrs. Josephine Teo.