Thirty three senior executives of 18 leading US corporations arrived in Ha Noi on Thursday to look for business opportunities in Viet Nam.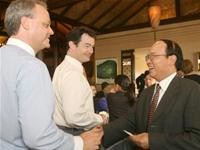 Deputy Minister of Foreign Affairs Le Van Bang (R) and US senior executives at the forum in Ha Noi (Photo: TTO)

On the first day of their visit, they attended the "Viet Nam – A Bright Future for US Businesses" forum in the national capital and spoke with senior officials from the ministries of Foreign Affairs, Trade, Science and Technology, and Post and Telecommunications about infrastructure, Viet Nam's WTO commitments, administration at company and government levels, and the fight against corruption.

Alvin Lee, Time Warner's Director of External Relations and Public Policy in Asia-Pacific, raised the controversial issue of intellectual property rights at the forum.

Ms. Frances A. Zwenig, High Commissioner of the US-Asian Business Council, said Viet Nam needed to realize the importance of the visit as "this opportunity will bring about very high inflows of investment".

According to Mr. Doan Xuan Hung, who heads the General Economic Department of the Ministry of Foreign Affairs, American companies are hoping to undertake projects worth billions of dollars in Viet Nam, for instance biocide production and power generation.

Today, the delegation will meet with Prime Minister Nguyen Tan Dung and later with officials from the Ministry of Defense and the National Assembly Office.

The top US companies operating in Viet Nam now are Abbott International, Agilent Technologies, Alcoa, Apco Worldwide, Boeing, Chevron, Conoco Phillips, Exxon Mobil, Ford Motor Company, General Electric, Hewlett- Packard, IBM, JHPIEGO, Raytheon International Inc., Time Warner, Universal Telecom Services, UPS and Vietnam Partners LLC.

In Ho Chi Minh City yesterday, representatives of 29 companies domiciled in the US state of Washington went to the US Consulate General for a meeting with Vice Chairwoman Nguyen Thi Hong of the Ho Chi Minh City People's Committee and other government officials.

The Americans were informed about business, cooperation and investment opportunities in agriculture, health, education and high technology.

The delegation chief, Washington Secretary of State Mr. Sam Summer Reed, said that most of the companies represented in the delegation were small to medium in scale, and that eight were owned by Vietnamese expatriates.

He said Washington State maintained good business and trading relationships with a number of countries in the Asia-Pacific region and was looking forward to establishing solid and long-lasting cooperation with Vietnamese companies.

More meetings with government agencies are scheduled for today.