The US has delayed an announcement of the results of its third administrative review on Viet Nam's shrimp exported to the US until March 2, 2009 instead of October 31 this year as originally scheduled, said the Viet Nam Association of Seafood Exporters and Processors (VASEP).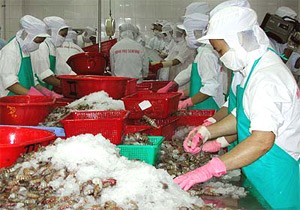 Shrimps processed for export
The delay was announced by the US Department of Commerce (DOC) in a notice run in the Federal Register newspaper. The review was conducted on Viet Nam's shrimp batches exported to the US between February 1, 2007 and January 31, 2008.
The DOC said that completing the review as originally scheduled is unfeasible due to the complexity of the process. The final decision will be made within 120 days of the announcement of the preliminary results.
On September 9, the DOC announced the second administrative review on frozen warm-water shrimp imported from Vietnam in the period from February 1, 2006 to January 31, 2007.
Accordingly, four Vietnamese enterprises were exempted from US anti-dumping duties, including Minh Phat Seafood Co. Ltd, Ca Mau Frozen Seafood Processing Import Export Corporation (Camimex), Grobest & I-Mei Industry Vietnam and Viet Hai Seafood Co. Ltd.
The final decision also stated that 23 companies would bear a tax rate of 4.57 percent, one will be subject to 4.3 percent and the remaining two companies, 25.76 percent.
According to the VASEP General Secretary, Truong Dinh Hoe, the decision was a surprise to Vietnamese seafood producers and exporters because the results of the second administrative review were far below expectations and resulted in Vietnamese shrimp being less competitive.
Although expecting difficulties, VASEP said that the final decision by DOC will not keep US importers away from Vietnamese products.
Viet Nam's total shrimp export turnover to the US is expected to reach US$850 million by the end of this year.
Related article:
US reverses shrimp dumping tax reprieve, exempts four