The US Department of Commerce (DOC) has decided to exempt four Vietnamese companies from anti-dumping tariffs on exports of frozen warm-water shrimp.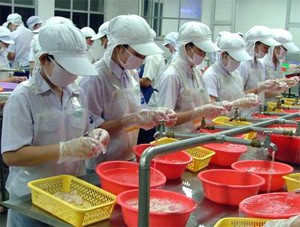 Processing shrimps for export at Quy Nhơn Frozen Seafood Joint Stock Company
The Viet Nam Association of Seafood Exporters and Producers (VASEP) says the four companies are Minh Phat Seafood Co. Ltd.; Ca Mau Frozen Seafood Processing Import-Export Corporation (Camimex); Grobest & I-Mei Industry Vietnam; and Viet Hai Seafoods Company Ltd (Vietnam Fish  One Co. Ltd).
The DOC announced the decision on September 9 after a second administrative review of the anti-dumping duties on Viet Nam's frozen warm-water shrimp during the period between February 1, 2006 and January 31, 2007.
As per the final decision, 23 Vietnamese shrimp exporters will be subject to a 4.57 percent tax and one – Minh Hai Joint Stock Seafood Processing Company (Seaprodex Minh Hai) – will enjoy the rate of 4.3 percent. All the remaining exporters will have to pay a higher tax rate of 25.76 percent.
The new rates will apply retroactively for shrimps shipped to the US during the reviewed period.
 
The final decision overturns the preliminary ruling announced in March that 28 exporters and processors would have to pay zero or minimal taxes.
 
Truong Dinh Hoe, deputy general secretary of VASEP, said the association will request the DOC to re-consider the final decision on imposing a high tax rate on the 23 exporters.
 
In the first administrative review on Vietnamese shrimp exporters in September 2007, the DOC had decided to cut tariffs from 4.57 percent to 0.01 percent for Viet Hai and to 1.08 percent for Grobest.
 
The country expects to earn US$1.68 billion from shrimp exports this year, accounting for roughly 40 percent of Viet Nam's total seafood export earnings.
 
In a preliminary review earlier, the DOC has said that four Vietnamese exporters had not sold tra and basa fish at less than market prices during the period of administrative review - August 1, 2006 through July 31, 2007 – and the taxes applied had been miscalculated.
 
Therefore, the tax rate for the four companies will revert to zero.
 
The four companies are: Binh An Seafood JS Company; East Sea Seafoods Joint Venture Company Ltd (ESS); Dong Thap QVD Food Company Ltd; and Viet An JS Company (Anvifish Co. Ltd).
 
The seafood industry targets US$850 million from exports of aquaculture products to the US this year. Last year Vietnamese seafood exports made up 6.2 percent of total imports by the US at US$12 billion.