Vietnam trade deficit continued to soar and reached US$1.4 billion in April as reported by the General Department of Customs on April 27.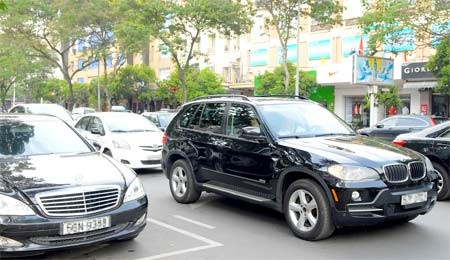 Car imports rose by 75.2 percent in the first four months of 2011 (Photo: SGGP)
The country's exports touched US$7.3 billion in April, a year-on-year rise of 37 percent, while import turnover was US$8.7 billion, up by 34 percent year on year.
 
The trade deficit hit US$4.897 billion in the first four months of the year, an increase of US$271 million or 5.9 percent compared to the same period last year.
 
In the first quarter, the general export turnover was US$26.937 billion and the general import turnover was US$31.834 billion, up by 35.7 percent and 29.1 percent, year on year respectively.
Commodities that experienced a significant increase in import value included fuel, LPG, cotton, weaving, fertilizer, plastic and paper, while the imports of fruits and vegetables, animal feeds and transportation dropped when compared with 2010.
 
Import turnover of machinery and equipment rose by 17 percent, while import turnover of automobiles hiked by 75.2 percent while that of motorbikes increased by 16 percent, despite automobiles and motorbikes being on the list of commodities subject to import restrictions.
 
Exports of staples, coffee, rubber and cassava doubled their increase; fruits and vegetables, pepper, iron and steel registered a 1.5-fold rise and many export goods hit double digits.
Meanwhile, tea, coal and precious metals experienced a drop in value over the corresponding period last year and cashew nuts, tea, pepper and coal plummeted in volume.