The largest industrial gas plant in Viet Nam is to be built in the northern province of Hai Duong according to a contract signed in Ha Noi on Oct. 25 between German Messer Group and Hoa Phat Group.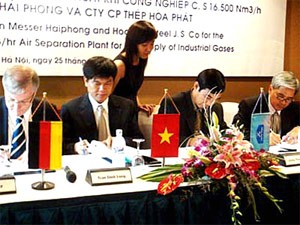 Presidents of German Messer Group and Hoa Phat Group sign the contract
Under the deal, Messer Group will invest US$30 million  in the construction of a separation and liquefaction facility to produce and liquefy oxygen, nitrogen and argon with a capacity of 16,500 cubic meters per hour of oxygen.
Messer Group is now involved in the production and distribution of industrial gases such as carbon dioxide, hydrogen as well as other specialty gases.
The new plant is expected to provide 70 percent of its gases for Hoa Phat Group's steel production, as well as supply both liquid and compressed gas to northern Viet Nam, particularly Ha Noi and Hai Phong.
Located in Hiep Son Commune, Kinh Mon District, Hai Duong province, the new plant is to be operational in 14 months' time .
Frankfurt-based Messer Group, has been in Viet Nam for more than 10 years with two companies: Messer Viet Nam Industrial Gases in Ho Chi Minh City and Messer Hai Phong Industrial Gases in Hai Phong, the latter a joint venture with Shinimex, a Vinashin subsidiary.
At present, Messer Group is negotiating with Shinimex to build an air separation plant to supply industrial gases to shipbuilding and other industries in the central region.