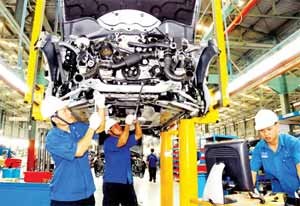 Mercedes - Benz Vietnam's plant in Ho Chi Minh City. The auto industry association, VAMA, has accused car importers of underinvoicing to evade taxes. (Photo: SGGP)
The auto industry has accused car importers of underinvoicing car imports to evade tax even as the Ministry of Industry and Trade is planning to raise tariffs on cars with up to 15 seats to 91 percent from 83 percent.
The Vietnam Association of Manufacturers of Automobile (VAMA) has complained to the Ministries of Finance, and Industry and Trade, and the General Departments of Tax and Customs that many importers have even reported brand-new cars as used cars and altered their documents.
It also warned that imported cars might overwhelm the domestic market, citing a forecast that this year car imports may rise by 45 percent.