The Vietnam Association of Seafood Processors and Exporters (VASEP) suggested four solutions to boost the export of tra catfish (pangasius) in 2011 at yesterday's seminar to review catfish exports in the first quarter of the year.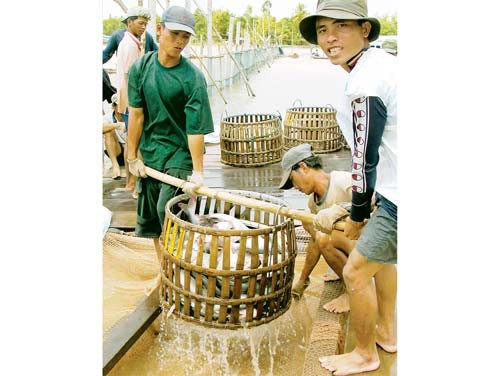 Farmers harvesting tra catfish at a farm in the Mekong Delta province of An Giang (Photo: SGGP)
The four solutions included raising the average export price, stabilizing production to ensure demands, strengthening quality management in breeding and processing, and speeding trade promotion and marketing for the Vietnamese fish.
 
According to VASEP, the average export price of catfish was US$2.54 per kilogram in the first quarter, a year-on-year rise of 20 percent.
 
As production and material costs will continue to rise this year, VASEP proposed a minimum export price of US$3.2 per kilogram from now until the end of the year.
 
To stabilize material output, which is presently the biggest problem facing enterprises, VASEP said that enterprises needed to take initiatives to develop resources appropriate to their financial and export capacities, by breeding their own fish, having their fish bred or ordering farmers to breed for them.
 
VASEP asked the Ministry of Agriculture and Rural Development to tighten planning of fish farms and maintain a stable output of catfish for export at about one million tons.
 
As regards quality management, VASEP wants only standardized fish exported. Enterprises must comply with regulations on use of chemicals while breeding and processing tra catfish.
 
As for the last solution, VASEP asked the ministry for permission to set up a fund to develop the export of Vietnamese tra catfish with a US$10 contribution on every ton of catfish export. The fund would be for trade promotion and marketing activities only.
 
Addressing the seminar, Luong Le Phuong, deputy minister of Agriculture and Rural Development, expressed his agreement to the solutions laid by VASEP.
 
He said to overcome the current severe shortage of catfish; enterprises should breed the fish themselves, as this would help to meet 30 percent of the demand.
 
Since input costs have soared sharply, processors need to reduce production costs to lower the cost price, he added.
 
Vietnam earned US$376.43 million from exports of 153,062 tons of tra catfish in the first quarter, up by 21.6 percent in value and 5.2 percent in volume year on year.
 
VASEP said tra prices will not drop, but might rise by about 10 percent until the summer harvest, because tra importers have begun to accept higher prices offered by Vietnamese exporters.
 
Catfish production could reach 800,000 tons in 2011, with 500,000 tons yield by the end of this year. However, there could be a severe shortage of raw catfish towards the third quarter of the year.