The Vietnam Chamber of Commerce and Industry (VCCI) proposed Vietnam Social Insurance Agency to continue streamlining and reducing administrative procedures and intensifying electronic transactions for businesses including foreign direct investment (FDI) firms on December 16.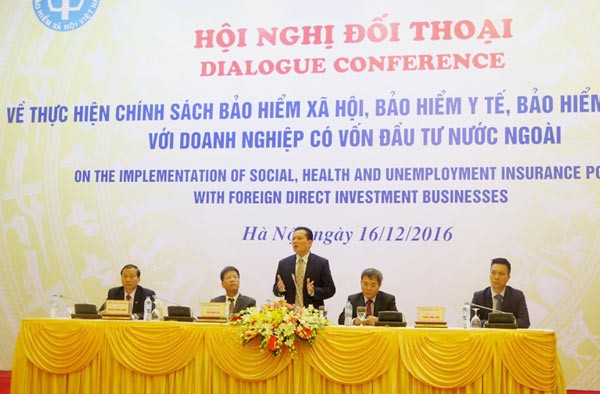 (Photo: VGP)
The proposal was made at a conference hosted by the two bodies in Hanoi to supply FDI enterprises with information about the implementation of compulsory insurance policies.
 
On behalf of businesses including FDI firms, VCCI said that the revised Social Insurance Law taking effect early this year has much improved the process of submitting and paying insurance premiums and more pleased businesses as well as workers than before.
 
A chamber survey covering FDI sector shows that 70.8 percent of respondents affirmed that they have no longer met with difficulties in doing social insurance formalities.
 
However, a number of enterprises have still unsatisfied with papers related to social, heath and unemployment insurances. Therefore, VCCI suggested the agency to simplify the insurance procedures at the maximum level to save time and cost for businesses and workers.
 
According to the Social Insurance Agency, 15,670 FDI firms attended the three compulsory insurances at the end of September this year, accounting for 7.6 percent of total attendees.
 
The number of workers having obligatory insurances at FDI firms is over 3.63 million, a year on year increase of 4.4 percent, which is expected to hike 7.3 percent for the entire year.
 
Compulsory insurance premium collected from the FDI sector is estimated to hit VND69,027 billion (US$3.03 billion) by the end of this year, up 20.4 percent over 2015. Arrears reach VND2,098 billion now, accounting for 3.9 percent of the total amount in need of collection.