Vietnamese textile and garment enterprises have boosted investment and cooperation with foreign groups to make materials and gradually increase the proportion of materials produced in the country to 50 percent by 2010.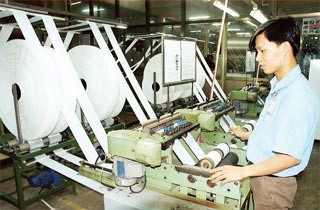 Paiho Company makes lots of various apparel materials
The Ministry of Industry targets producing 1.5 billion meters of cloth with a total capital of US$1.7 billion in 2015, and to earn US$15 billion from exports of garments and textiles by that time. It will reduce the heavy reliance on material imports by intensifying cotton and synthetic fiber production.
 
Since early this year, many textile and apparel projects have been carried out and put into operation.
 
At present, nearly 90 percent of materials used in the textile and apparel industry are imported, mainly from China, Taiwan, South Korea, Hong Kong and Japan.
 
The Vietnam National Textile and Garment Group (Vinatex) and many other enterprises are ambitious to build centers for trading textile and apparel materials among the world's leading material suppliers and Vietnamese apparel designers and manufacturers.
 
Some centers are under construction, such as the Fiber and Apparel Material Trading Center of the Ho Chi Minh City Youth Pioneer Organization and the Sanding Tam Textile and Garment Material Trading Center of Sai Gon 2 Garment Joint Stock Company.
 
Pham Xuan Hong, general director of Sai Gon 3 Garment JS Co., said in order to develop textile and garment sector, Viet Nam needs to have big scale trading centers to supply lots of various products and new, fashionable ones.