Trade relations between Viet Nam and Russia have experienced many ups and downs in recent years. In Ho Chi Minh City on Monday, the problems of Vietnamese entrepreneurs trying to enter the Russian market and the prospect of cooperation between the two countries were lively topics of discussion at a seminar titled "Mekong Emeral Trade Center – The Bridge between Vietnamese Entrepreneurs and the Russian Market".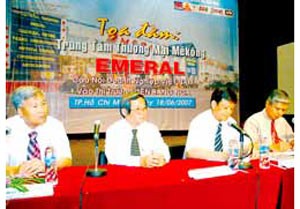 The participants of the Mekong Emeral Trade Center - The Bridge between Vietnamese Entrepreneurs and the Russian Market Seminar
Russia – a potential market
Russia is developing at an incredible speed, according to Mr. Nguyen Ba Anh, chairman of the Vietnamese Entrepreneurs Association in Russia. GDP is growing at 6% and is expected to reach 6.5-7% in the near future, and foreign investment is reported to be worth US$140 billion a year.

Moreover, Russia's production cannot catch up with domestic needs, which is why it spent US$367 billion on imports in 2006. Russia is also a "comparatively easy consumer" compared to Europe or the US.

Mr. Phan The Rue, Deputy Minister of Commerce, president of the Competition Council - Competition Control Bureau and president of Russia's Retailers Association, said that Vietnamese goods only accounted for 5% of the Russian market but, despite the small proportion, had "received great feedback from Russian consumers".

Existing business barriers
Even with such favorable conditions, Vietnamese entrepreneurs still find it difficult to enter this potential market. Trade between the two countries was only worth US$1.2 billion in 2006 while Viet Nam's export turnover was US$400 million last year.

Mr. Rue stressed that Viet Nam couldn't fail in the Russian market without risking a loss of market share across Eastern Europe.

Mr. Vo Tri Thanh, president of the Viet Nam Chamber of Commerce and Industry, said that the biggest obstacle for Vietnamese entrepreneurs wanting to enter the Russian market were the inconvenient payment procedures and the complicated import procedures demanded by Russian customs officers.

However, according to Mr. Nguyen Xuan Hoan, general director and vice president of Phu Nhuan Service Joint-Stock Company, and Ms. Nguyen Thi Thanh Lan, sales chief of Viettravel, the most visible barrier in Vietnamese-Russian trade relations is the lack of security for foreigners visiting Russia.

Although 100,000 Vietnamese live in Russia, Viet Nam is still unable to gather sufficient information about the market. Even the Government does not have any specific cooperation plan with Russia, and every trade promotion program up until now has only reached the experimental phase.

If Viet Nam does not change the way business is carried out now, Viet Nam's failure in the Russian market is inevitable. Between 70% and 80% of the Vietnamese people in Russia make a living by selling other countries' goods, noted Mr. Nguyen Huy Hoang, standing commissioner of the Vietnamese Association in Russia.

Strengthening ties
Vietnamese products like clothing, consumer goods and processed coffee and tea are popular in Russia. Therefore, the Government should import more of these products into Russia.

According to Mr. Anh, Vietnamese entrepreneurs should change their view of Russia, which has become a much better and safer place compared to five years ago. To be successful in Russia, Vietnamese entrepreneurs need to learn how to cope with the local rules and regulations, he stressed.

Concerning payments, a Vietnamese-Russian joint-venture bank has been established to reduce the risks associated with foreign business transactions. There is also a suggestion to change the currency of payment from US dollars to rubles.

Many trade experts said that the Vietnamese expatriates know best when it comes to foreign markets, demand trends and legal systems and thus play an important part in promoting Viet Nam's exports to other countries.

In coming years, Russia will become one of the world's five biggest economies. Therefore, Viet Nam should pay more attention and develop trade between the two countries as soon as possible.

Mekong Emeral is a two-storey trade center housing 50 offices and 400 kiosks displaying and selling the wares of 600 Vietnamese companies. It is also involved in real estate, finance, the travel industry, the garment business and many other fields.

The seminar was held by Sai Gon Giai Phong Newspapers, the Vietnamese Entrepreneurs Association in Russia, the International Communication Information Company and Mekong Emeral Trade Center.