Vietnamese cashew nut exporters have overtaken their Indian rivals to top the list for cashew nut exports, world exporters said at a cashew industry conference held in Florida.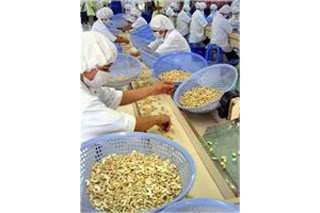 Cashew processing at a plant in Lam Dong province
Conference attendees also concluded that the quality of Vietnamese cashews exceeds that of India, Brazil or Tanzania, said Nguyen Duc Thanh, acting Chairman of the Vietnam Cashew Association, who recently returned from the conference.
In 2006, Vietnamese exporters shipped 127, 000 tons of cashews, nearly US$504 million worth, while India, its biggest competitor, only managed to sell 118,000 tons.
40% of the produce went to the US, 20% to China, 20% to Europe and 10% to Russia, the Middle East and Japan.
Despite the industry's success, however, Mr. Thanh also expressed concern that the number 1 position will be difficult to maintain. Vietnamese cashew companies have focused on export activities so far, ignoring the domestic market.
Furthermore, because of low salaries, cashew factories often experience a high turnover rate, resulting in a shortage of employees for the sector.