No reason to be worried about coffee imports from Viet Nam. This was the essence of a short report published on a German website. Business Portal24 quotes the Viet Nam Coffee and Cocoa Association (VICAFO) affirming that they will not be affected by lower profit margins for their exports in the near future.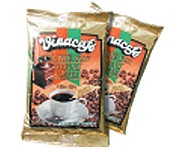 Vinacafe is one of the most favorite brands in Viet Nam
Analysts worldwide had predicted a steep fall in prices when the coffee will be harvested in Indonesia and Brazil. Germany, however, will import a constant amount of coffee from Viet Nam in 2006, the Ministry for Trade in Hanoi anticipates. Germany is one of the biggest importers of Viet Nam coffee ranging at US$750 Million per year. Although the coffee industry in Germany sees a possibility of marginal declining import prices. A minimum of US$920 per ton is likely. At present the export price for raw coffee in Viet Nam is US$1,200 per ton which is the highest for six years.


Quoting VICOFA the report finishes: Coffee and rice are at present the most important agricultural products in Viet Nam. Both commodities generate 10 per cent of its annual export balance.

Related Links:

Business Portal 24 (German)
VIET NAM COFFEE AND COCOA ASSOCIATION