Thai entrepreneurs agree that Viet Nam may become Thailand's main competitor in attracting foreign investment within five to ten years thanks to Viet Nam's policies on tax reduction and exemption, and low cost of labor.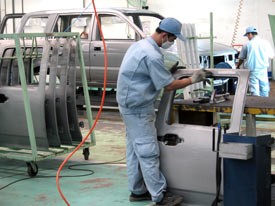 Viet Nam has an advantage over Thailand in labor cost, especially the labor-intensive industry of automobile (Photo: T.C).
Incentives such as tax reductions, tax-free periods, and low rents in 50 economic zones are paying off as many multinational companies have set up plants in Viet Nam.
 
These include the Charoen Pokphand Group from Thailand, Boeing from the U.S. and Toyota from Japan.
 
Moc Bai Trade and Industrial Zone in southern Viet Nam is a good example of the push for foreign investment. Companies can operate free of business income tax for the first four years, enjoy a 50 percent tax reduction for the next nine years, and then pay just 10 percent for the following two years.
 
In addition, Moc Bai offers free land rentals for 11 years from the date of signing the contract, followed by rates of just 30 percent of the standard rental price in that area from the 12th year onwards.
 
Another major advantage of operating in Viet Nam is the labor cost, which is half that charged in Thailand, said Viboon Kromadit, vice president for marketing of Amata Corporation in Viet Nam.
 
According to a recent report in The Nation newspaper, Thailand's high-ranking authorities agree that Thailand must be on its toes to stay ahead of Viet Nam.
 
Thailand could well lose out to Viet Nam in labor-intensive industries such as textiles, automobiles and consumer products. Thailand, therefore, should upgrade to manufacturing hi-tech and value-added products.
 
Thailand ranks 11th among the 74 foreign countries investing in Viet Nam with 132 projects worth a total of US$1.47 million.
 
A recent report from the Thai Kasikorn Research Center says Viet Nam's export value increased from US$7.26 billion in 1996 to US$32.23 billion in 2005. Meanwhile, Thailand's export value merely doubled in the same period, going from US$55.94 billion in 1996 to US$110.88 billion ten years later.
 
Kasikorn said that Viet Nam's total export value was just a third of Thailand's, but if Viet Nam retained its current export growth rate of 20% per year, it could exceed Thai exports in the next 14 years if Thailand's growth rate remained 10%.