Vietnamese footwear manufacturers are not selling their leather shoes to the European Union at below cost, Foreign Ministry spokesman Le Dzung told a press conference on August 31.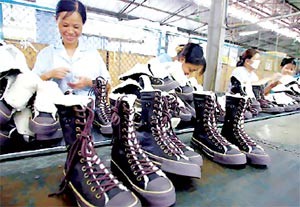 At a footwear factory in Viet Nam
Mr. Dzung was responding to the European Commission's proposed anti-dumping measure of 10 per cent import duty on Vietnamese leather shoes.
 
He said the proposed tax was contrary to the intent of commercial liberalization that had been initiated and was strongly supported by the EC.
 
The action was aimed at protecting a few under-competitive manufacturers in Europe and would cause big losses to the majority of EU consumers and retailers, he said.
 
"Many EU members have opposed the imposition of anti-dumping duties on Vietnamese shoes as a consequence," he said.
 
On Wednesday last week the EC proposed instituting an anti-dumping tax of 16.5 per cent on Chinese leather shoes and 10 per cent on Vietnamese leather shoes for five years.
 
These anti-dumping measures had already been suggested by trade commissioner Peter Mandelson in July but were rejected by many EU members.
 
The EU members will announce their final decision on the matter by October 6.
 
For now, the temporary 19.4-per-cent duty proposed for shoes from China and 16.8 per cent duty for those from Viet Nam remain unchanged.
Any EU members who do not impose final duties once they are fixed might be accused of disrespecting the common regulations.
Reacting to the EC's proposal, representatives of transnational companies that make shoes in Viet Nam and China for export to the EU have called on the EU countries to lift the protectionism.
Organizations such as the Federation of the European Sporting Goods Industry, which represents Adidas, Nike, Puma and others, and the European Branded Footwear Coalition have called on EU countries to reject the EU's proposal and stand together to fight political pressure on business.
The EU stressed that these anti-dumping measures would affect 11 per cent of the volume of shoes sold to the EU.
Since 2001, some 40,000 European footwear workers have lost their jobs.