Viet Nam's electronics sector is facing a tough time because the import tariffs on electronics from ASEAN countries have reduced to 0-5% since January 1, 2006 subject to the ASEAN Free Trade Agreement, experts say.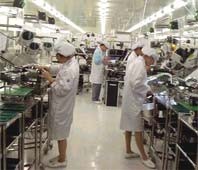 Employees of Sanyo work in Viet Nam
In Viet Nam, domestic TV brands make up just about 10% of the market, which means around 1.4 million TVs a year. With this small market share, local manufacturers do not have enough money for re-investment to produce components.
Presently, most Vietnamese electronics producers cannot make components due to lack of capital, thus having to assemble components into a complete product to sell. As from January 2006, they cannot compete with products from regional countries because of lowered import duties.
The director of a Vietnamese company says even when buying components, Vietnamese manufacturers have to pay a higher price than international producers, who buy the parts in bulk. For example, for every purchase, Sony often orders components for all Sony factories worldwide, thus enjoying a lower price.
A foreigner tries digital video cameras at Ideas shop on Cach Mang Thang Tam Street in Ho Chi Minh City (Photo: Tuong Thuy)
In Viet Nam, the Ministry of Industry has yet to work out a fresh development direction for the electronics sector.
Analysts say Vietnamese producers will stop assembling electronics because of no profit and shift to distributing products supplied by foreign companies.
According to market researchers, liquid crystal display TVs will become a more popular item in Viet Nam in the next few years but domestic manufacturers, with limited capital, cannot gear up to tap this market tendency.