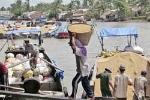 The Mekong Delta granary is the major supplier for Viet Nam's rice export.
In 2005, Viet Nam became the world's second biggest rice exporters after Thailand when shipping a record 5.1 million tons of the grain. However, according to some experts and authorities, Viet Nam's rice export industry has yet to tackle some pending problems concerning the production and managing the rice business.
Achievements and pending problems
Southern Viet Nam province of An Giang, located in the Mekong Delta is a typical example of its success in reaching the highest capacity of the country's rice export (up to 3 million tons per year).
During the past ten years, An Giang province has ceaselessly been promoting its rice quality and quantity, rapidly improving modern techniques in farming activities aiming at exporting the highly potential rice products.
Moreover, the province is proceeding to build its brand name in Phu Tan sticky rice, a major and typical rice product of the Mekong Delta, according to Huynh The Nang, Director of An Giang's Department of Agriculture and Rural Development.
An Giang has achieved the leading position in Viet Nam's rice exporting industry with over 650,000 tons in 2005, rising remarkably from the 300,000 tons in 2002.
The Mekong Delta granary takes important contribution to the success of Viet Nam's rice export.
However, there are still some weak points in Viet Nam's rice export, said Mr. Nang.
In Viet Nam, farmers still run their farming business according to their own experiences and choices, making a habit of buying rice and selling their products to small markets and without central rice material suppliers.
Also, the food enterprises in Viet Nam are too late in building a necessary brand name in rice exports as well as in obtaining or forecasting rice information, especially that of some major exporting rice products like the fragrant rice, special rice and sticky rice.
On the other hand, the government does not attach special importance to the material facilities such as warehouses and berthages as well as favor policies on buying rice products, added Mr. Nang.
Modernization lays the foundation for industrialization.
In the recent years, Viet Nam's foreign earnings from agricultural exports and aquatic products have taken an important role in the development of service and other industries, said Ph.D Pro. Vo Tong Xuan, the rector of An Giang University.
Food products will be brought in super markets, not the small markets as usual, for buyers have obtained a reasonable living standard and wanted to search for higher food hygiene.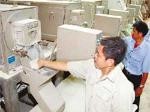 Satake Rice Proceesing Factory (Ho Chi Minh City)
On the other hand, Vietnamese farmers still have their habits to sell their products to private dealers rather than the professional enterprises. Also, enterprisers prefer to buy products from farmers who offer the cheapest prices.
According to Mr. Xuan, another weak point of Viet Nam's rice industry is that the industry fails to supply its products of high quality and large quantity with timely delivery as well as competitive prices.
Bui Phong Luu, Director of Bui Van Ngo Industrial & Agricultural Machinery Co., Ltd said: "If the rice is dried in a right way for better storing conditions, its export value can rise by US$30 per ton. Thus, Viet Nam can earn a total increase of nearly US$200 million."
With such an extra income, Viet Nam can apply over 3,000 rice-drying machines with high capacity in the Mekong Delta granary, and is certainly capable of drying its rice in crops of the same year, added Mr. Luu.
The Mekong Delta granary should form its regional material collections and enhance the enterprises' leading role in the strategy of building a brand name and improving the competitive ability in the process of integration to the global market.