Fish exports reached US$3.75 billion in 2007, a 12% increase in volume over last year and making Viet Nam one of the world's top-10 seafood exporters, announced the Ministry of Agriculture and Rural Development yesterday.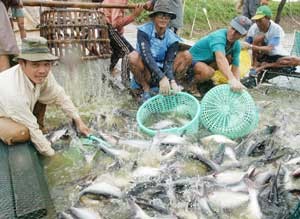 Farmers collect basa fish in the Mekong Delta
The ministry said that after a year of WTO membership the number enterprises meeting difficult international market standards had doubled. Twelve hundred enterprises are now permitted to export aquatic products to the European Union, China, Canada, the Republic of Korea and other WTO nations. Viet Nam's aquatic products are now being sold in over 130 countries.
Seafood exporters shipped various products. Besides traditional frozen or refrigerated seafoods, such as shrimp and catfish, more processed seafoods have been exported. Shrimp have been the nation's major aquatic export for several years making up some 40% of total aquaculture exports. Catfish had also become a major export revenue earner.
The goal of organized seafood exporters for 2008 is to reach US$4.25 billion in export revenues. The ministry suggests world market demand for seafood now exceeds demand and this is an opportunity for Viet Nam's exporters to make significant inroads into the world market.
However, the ministry warns, Viet Nam's fish exports still face several challenges because of the increase of new non-tariff barriers importing nations.
The ministry has confirmed it would more closely manage and control the quality of products, especially for hygiene and safety.