Many Vietnamese corporations own rubber plantations in Laos, creating employment for local people and helping to boost trade ties between the two countries. However, to reach the 2010 goal of having 100,000 hectares of rubber trees, Vietnamese corporations must tackle a number of existing problems.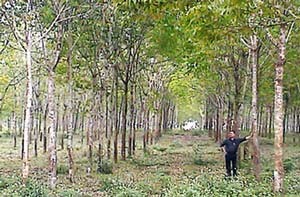 A rubber plantation
Since July 2005, the Vietnam Rubber Group (VRG) invested US$30 million to plant 10,000 hectares of rubber trees in the Champasac province of Laos. To complete the project, VRG has established seven member enterprises which have reached a charter capital of VND100 billion (US$6.25 million).

Meanwhile, Vietnam-Laos Rubber Joint Stock Company has reported the successful planting of 8,000 hectares of rubber trees and is expecting to finish planting a further 10,000 hectares by 2008, a project that is funded by 100% Vietnamese investment capital.

The Vietnam-Laos Rubber Joint Stock Company has agreed to rent agricultural land from Laos in 50 year blocks, in the seventh year of the project, the company will start to harvest rubber latex and only then must they pay tax to the Laotian Government at a rate of US$9/hectare/year.

A plantation project to plant 4,900 hectares of rubber trees and establish a rubber processing factory, build houses, schools and streets has recently begun in Laos with investment from the Quasa-Geruco Company. 2,300 people, 90% of whom are Laotian, have been employed to work on the project with a monthly salary of VND2.5 million (approximately US$156).

According to Mr. Ho Van Ngung, General Director of the Vietnam-Laos Rubber Joint Stock Company, many corporations find Laos a good place to expand their rubber business because in comparison to Viet Nam, Laos has a cheaper labor force, the weather is more suited to growing rubber trees and most importantly, investors in Laos can reap greater benefits than if they had invested the same amount of money in Viet Nam.

According to many industry experts, Viet Nam's goal to plant 100,000 hectares of rubber trees by 2010 is not simple; many Chinese and Thai corporations are interested in renting Laos' agricultural land for their own rubber plantation projects, a great threat to Vietnamese corporations. Therefore, Vietnamese corporations must speed up the rate at which they are renting land from Laos or they will face harsh competition.

Viet Nam is interested in the land of Champassak, Salavan, Atopu and Sekong provinces of Laos, currently used for growing vegetables and forest trees. Therefore, Viet Nam rubber corporations need to produce a more reasonable compensation plan for the landowners if they want to entice them to change their land-use. They must also develop a better investment strategy if they wish to earn the trust of the local people, helping them to develop their country's economy.