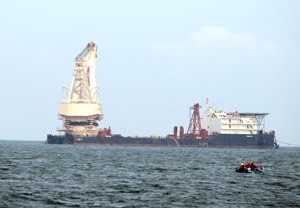 The oil drills at Vung Tau. (Photo: T.C)
The Prime Minister has just signed Decision No. 198 on the establishment of Viet Nam National Oil & Gas Group, a multi-owner group in which the state holds the controlling stake. The new group was founded on the restructuring of the Viet Nam Oil & Gas Corporation (PetroVietnam) and its subsidiaries.
The members of the group include many corporations operating under the parent-susidiary business model in which the parent company – the Viet Nam National Oil & Gas Group (state-owned enterprise) – holds 100% of the chartered capital. These members consist of 4 newly-founded corporations: the Oil & Gas Exploration – Exploitation Corporation, the Gas Corporation, the Electricity Corporation, the Oil Refinery and Petrochemistry Corporation, and other subsidiaries.
The group is equipped with modern technology and management and is highly specialized, taking part in many businesses in which oil and gas exploration, exploitation, processing, and distribution are the key fields.
Besides, Deputy Prime Minister Nguyen Sinh Hung also initially permitted for further approval (Letter No. 1332) the establishment of Electricity Finance Company, a limited company owned solely by Electricity of Vietnam (EVN). The Deputy Prime Minister delegated the decision to open this finance company to the governor of the State Bank of Viet Nam in compliance with the current regulations.
Related Articles:
EVN to Issue VND600 Billion in Bonds
PetroVietnam to Exploit Oil in Algeria