Foreign Minister Pham Gia Khiem has wound up his US visit by expressing his government's displeasure with a proposed US Department of Commerce monitoring mechanism for garment and textile imports from Viet Nam.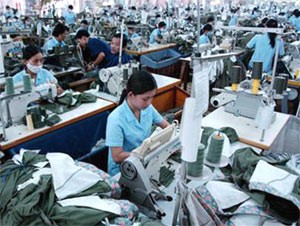 Making clothes for export
the Deputy PM Khiem who is also Foreign Minister lodged his complaint on Friday, the final day of his official visit to the USA, at a meeting with US Trade Representative Susan Schwab, Secretary of Commerce Carlos Gutierrez, the director of US Eximbank, and Senator Max Baucus.

He described the US proposal as "discriminatory treatment" and not in compliance with the regulations of the World Trade Organization, and said it would have a negative impact on imports from Viet Nam.

He asked the US to consider applying the General System of Preferences to imports from Viet Nam and to ease its restrictions on hi-tech exports to Viet Nam.

After Viet Nam was granted PNTR status last year, the DOC announced it would apply the monitoring program to Viet Nam-made clothing every six months.

Lawyer William Barrington warned that the program could lead to the DOC bringing an anti-dumping lawsuit against Viet Nam-made apparel.

Prior to that, the Department of Commerce (DOC) planned to start the monitoring program straight after Viet Nam joined the WTO on January 11. However, commentators said that it was too early at that stage.

The US Association of Importers of Textiles and Apparel (USAITA) has expressed anxiety about Viet Nam's stipulation that apparel exports be licensed from March 15.

According to USAITA, any hope that monitoring textile and garment exports will reduce the risk of a US anti-dumping investigation is misplaced. Bringing in a licensing system will mean new difficulties for importers and allow customs officers to hold or ban shipments because importers cannot get copies of their export licenses.

Earlier, USAITA called upon the DOC to drop the plan to monitor five "sensitive" textile and garment categories imported from Viet Nam - trousers, shirts, sweaters, underwear and swimwear - as no US clothing maker supported the plan.

Viet Nam now ranks sixth among apparel exporters to the US. The country's textile industry earned over US$5.8 billion from exports last year, with the US accounting for US$3.1 billion, or well over half.

The DOC has just launched a webpage about monitoring textile and garment imports from Viet Nam at http://ia.ita.doc.gov/download/vietnam-textile-monitoring/vtm-index.html.

Data on the import of the five "sensitive" categories along with 26 kinds of clothes subject to the DOC's import monitoring program will be updated monthly on the webpage.