Viet Nam and Chinese city of Shanghai looked into opportunities for bilateral cooperation in areas of economy, trade and investment at a seminar held in Shanghai on 30 November 2007.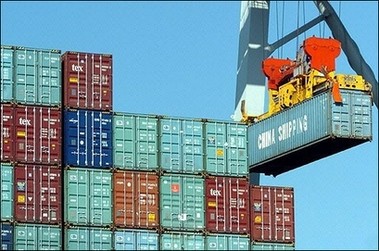 A crane loads containers at a Shanghai port.
The seminar brought together more than 50 delegates from the Ministry of Industry and Trade, the Ministry of Planning and Investment, the Ministry of Foreign Affairs, the Viet Nam Chamber of Commerce and Industry, as well as representatives of Ho Chi Minh City, and Ninh Thuan and Tuyen Quang provinces of Viet Nam.
Also in attendance were 250 representatives of relevant agencies and companies in Shanghai and the neighboring localities.
Vietnamese Ambassador to China, Tran Van Luat said the event was a valuable chance for both sides to increase mutual understanding and open up new prospects for economic, trade and investment collaboration.
Zhao Kangmei, the Vice Chairman of the Shanghai Foreign Economic Relations and Trade Commission, along with the Chinese delegates all expressed their interest in economic and trade ties with Viet Nam. They also commented that they wanted to expand these relations in the future.
Participating Chinese businesses inquired into Viet Nam's foreign trade and investment policies and asked for details of the real economic situation of the country's regions.
The workshop was organized by the Embassy of Viet Nam in China and the Shanghai Foreign Economic Relations and Trade Commission.
The Chinese port city has seen the establishment of a Vietnamese consulate office, which was inaugurated on 30 November 2007. This is the first Vietnamese diplomatic representative office in Shanghai – the biggest city in China.
To date, Viet Nam has opened a consulates general in Guangzhou, the capital of Guangdong province; Nanning , the capital of Guangxi autonomous region; Kunming , the capital of Yunnan province; and Hong Kong Special Administrative Region, in addition to its embassy in Beijing. The addition of the new embassy in Shanghai will strengthen ties between the two countries.