Viet Nam has earned contracts to export 600,000 tons of rice in the first quarter of 2006, according to the Ministry of Agriculture and Rural Development.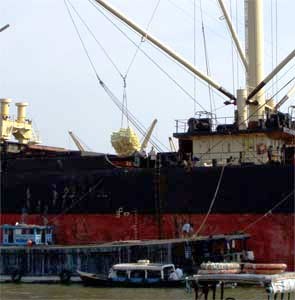 Rice loaded into a ship for export at Saigon Port in Ho Chi Minh City (Photo: Tuong Thuy)
A batch of 342,500 tones will be shipped to the Philippines from January to March, the ministry said. Viet Nam will also export rice to the Middle East and African markets.
In addition, Vietnam has reached a preliminary agreement with Indonesia to export almost 100,000 tons of rice in the first quarter of the year.
The ministry forecasts that the world's rice demand would keep increasing in 2006. The ministry has set targets of 2006 to be producing 38-39 million tons of paddy and exporting four million tons or more of rice this year.
The agricultural sector has planted six new rice varieties in the 2005-2006 winter-spring crop to raise productivity and quality of rice for export.