The Vietnamese Ministry of Finance has just ratified a reduction in import tariffs on dairy products by up to 50 percent. Prices, however, are unlikely to drop proportionately on the domestic market due to increasing ingredient prices.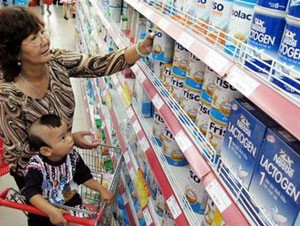 A woman chooses dairy products in a supper market. Dairy products' prices have not dropped although the import tariffs were cut.
Under this latest cut, the second since early August, non-condensed milk and cream will enjoy a 5 percent tax instead of 10 percent while condensed milk and cream, 3 percent rather than 5-15 percent.
The tariff on buttermilk and yogurt will be down to 7 percent from 10-15 percent.
But since such tax cuts can not help make up for the rising prices of dairy input ingredients, which have shot up to US$5,500-5,700 a ton from US$2,500 earlier this year, milk products on the Vietnamese market will be unlikely to drop significantly in price, said Tran Quoc Huan, marketing manager of Dutch Lady Vietnam.