Deputy Minister of Planning and Investment Nguyen Bich Dat has assured the U.S. business community that Viet Nam will always facilitate foreign investors as all foreign-invested business operations benefit both investors and the country.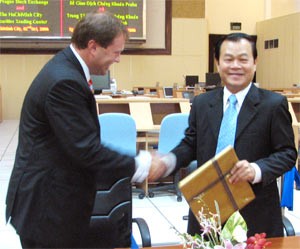 Viet Nam always supports foreign investors. (Photo: T.C.)
Speaking at a round-table conference on business opportunities in Viet Nam, held in Washington DC on Tuesday, Mr. Dat stressed that this was the right time for foreign investors, especially American, to do business in Viet Nam.
After briefing the participants on Viet Nam's favorable investment and trade environment, he urged U.S. entrepreneurs to invest in the country.
Representatives of 50 leading U.S. companies like Cargill, Boeing, Lockheed Martin, New York Life Insurance and Microsoft expressed interest in Viet Nam's economic development strategy for energy, e-commerce, stock trading, banking services, education and training, infrastructure, and environmental protection, and the way its industrial and export processing zones worked, especially when Viet Nam is joining World Trade Organization.