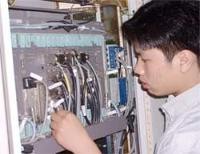 VinaPhone's switchboard will be improved to meet the rising number of subscribers.
A 5-year development plan was recently drew up by The Viet Nam Post and Telecommunications Corporation (VNPT), aiming at building a strong group and improving its current services.
At a meeting on Dec 14, Viet Nam's Deputy Prime Minister Nguyen Tan Dung, VNPT leaders, and the Ministry of Posts and Telecommunications, VNPT presented its deployment strategy to establish the VNPT syndicate and develop the current services, accomplish its 2006-2010 target.
Deputy Prime minister asks VPNT to work out a full development plan to 2010, relating to its expansion into a strong syndicate, the key corporation for the post and telecommunications industry's development in Viet Nam.
According to its drafted business plan of 2006-2010, VNPT expects to achieve a projected turn over of VND 219,095 million, an annual increase of 10-12%, and budget contribution of VND 28,000 million, up 7.6% annually.
In the next five years, VNPT's major objective is to reach a teledensity of 30-32 lines/ 100 inhabitants, equal to a total increase of 12 to 17 million telephone lines in the entire country, and to strive an average of 95% villages national wide having daily Party's newspapers.
However, in term of telecommunication services, VNPT also has to draw a clear line into two sectors between public and paid services, says Mr.Dung at the meeting.
VNPT must also speed up the equalization process of businesses and business-branches affiliating to provincial and city post offices, he adds.
Reportedly, VNPT, in corporation with the Ministries of Post and Telecommunications, Finance, Planning & Investment, Reformer Development Committee, plans to complete the equalization of its two mobile phone services MobiFone and VinaPhone, to list them on the stock market in 2006, which will attract the investor's great interest as they have established popular brands.