Four Vietnamese and Thai businesses signed a contract on March 19 to jointly build a petrochemical complex in the southern Ba Ria-Vung Tau province.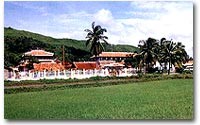 Long Son island
Under the contract, the four investors will establish a joint venture and apply for a license to build a 4-billion-USD petrochemical complex in Long Son island in Ba Ria-Vung Tau province.
The complex, which will accommodate production lines of polyvinyl chloride (PVC), olefins and other petrochemical products, is expected to help boost related industries such as chemicals, plastics, automobile and packaging.
Its first production line is scheduled for operation by 2012.
The Vietnamese side includes the Viet Nam Oil and Gas Group (PetroVietnam) and the Viet Nam Chemicals Corporation (Vinachem). The Thai businesses are SCG Chemicals and Thai Plastic and Chemicals