The Vietnamese pepper industry is currently well positioned to play a major role in determining the price of pepper in the global market, Mr. Do Ha Nam, president of the Viet Nam Pepper Association (VPA), said.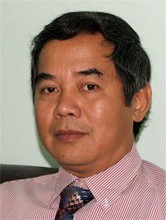 Mr.Do Ha Nam, president of the Viet Nam Pepper Association.
Since Viet Nam is now producing 60% (120,000 tons) of the world's supply, Mr. Nam's views are widely shared by industry experts.
Along with being the world's major producer, Viet Nam has also proven itself to be a stable force in the pepper market. In 2002, when market prices were low, other pepper producing nations reduced production rates but Viet Nam maintained its output throughout the year, endearing it to importers around the globe.
For all the influence it wields in the pepper industry though, Viet Nam has often been unable to take advantage of occasional market price increases since producers have often been caught with little or no stock when the increases occur. This is an area where the Vietnamese agricultural sector in general needs to improve.
As an example, when global pepper prices increased recently to as high as USD 3,000 per ton, local producers had only 40% of their stock left. 60% had already been sold at USD 1,200 per ton.
Industry analysts have cited two reasons for this: Firstly, Vietnamese producers lacked information and so were unable forecast spikes in demand and market prices, while international traders were able to speculate the market, purchasing pepper at lower prices.
Secondly, local producers often do not have business plans. They buy or sell on a day to day basis, leaving them vulnerable to fluctuating market prices. Foreign competitors, on the other hand, generally follow concrete strategies as to where and when to buy, how much to produce or who to sell to, etc.
According to Mr. Nam, Vietnamese pepper businesses are facing a number of problems in trying to influence the market.They should stop compete drastically with one another, causing harm to farmers. Instead, they should join hands with one another in planning specific business stategies to be able to actively regulate the market.
Businesses should find ways to raise their working capital and expand warehouses so that they would be able to take control of their business plans, especially in exports.
Being practically united, Vietnemese pepper businesses can think of their business success when seizing this golden chance.