Prime Minister Nguyen Tan Dung spent yesterday, the second day of his State visit to India, meeting with heads of India's leading corporations and addressing the India - Viet Nam Business Forum where he affirmed that Viet Nam would open its doors widely to Indian investors.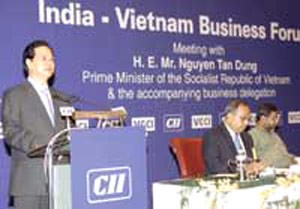 Prime Minister Nguyen Tan Dung speaks at the India -Viet Nam Business Forum
During the forum at Mumbai City in Maharastra state, PM Dung reiterated Viet Nam's policy to create good conditions for and open its doors to Indian investors, particularly in their strong fields which can facilitate the country's development, such as information technology, power, oil and gasoline, energy, metallurgy, coal, transportation, fisheries, food processing, health and medicine.

As many as 300 representatives from Indian enterprises and an additional 100 Vietnamese business representatives that form part of the traveling delegation attended the forum.

Earlier in the day, PM Dung met with leaders of Indian leading groups, including Oil and Natural Gas Corp. Ltd. (ONGC), Reliance Industries Limited, India's flagship Natural Gas Co. (GAIL), Aditya Birla Group, Satyam Computer Services Ltd., Infosys Technologies Ltd., NIIT Technologies Ltd., Ranbaxy Laboratories Ltd., and Essar Steel.

At the business roundtable, the Vietnamese leader praised impressive achievements in trade and investment that have been obtained through the traditional friendship and comprehensive cooperation between the two nations.

PM Dung told the leaders of energy, IT and pharmaceutical firms that they are at the forefront of the development of economic relations between the two countries.

"Recent projects invested in by your global conglomerates such as the Oil and Natural Gas Corporation and steel maker Tata have catapulted India into the list of top ten foreign investors in Viet Nam and helped usher in a new phase in the two countries' investment relations," he said.

The Vietnamese leader spoke highly of ONGC's effective oil exploration, Reliance's newly-opened representative office, NIIT's 24 IT centers and Ranbaxy's joint venture in Viet Nam.

He said that India and Viet Nam share similar experiences of rapid economic growth and Viet Nam has placed huge energy demands on the country, leading his administration to focus on the development of the oil and gas, energy and petrochemicals industries.
Mr. Dung said that Viet Nam has placed a high priority on information technology and is actively seeking investment, joint ventures and human resources development in the area.

Indian businesspeople expressed their appreciation of Viet Nam's rapid economic development, adding that they consider Viet Nam as a potential investment market.

Indian investors pledged to further expand their investment in Viet Nam, in the short term, they invested over US$1 billion in the country's petroleum and steel processing industries.

Following the business forum, PM Dung toured the IT Park, "Knowledge City", of Reliance Group and left for the capital city New Delhi.