Domestic retailers face an enormous challenge in holding on their market share as Viet Nam prepares to open up its retail market completely next year as part of its World Trade Organization commitments.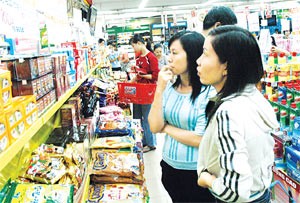 Shopping at Co.op Mart Cong Quynh supermarket (Photo: SGGP)
Global retailers, though not present in full force yet, already have around 10 percent of the market share.
 
Retail giants like German-based Metro Cash&Carry, Big C Bourbon (France), Parkson (Malaysia), and Wal-Mart are present and others like Dairy Farm from Singapore, Lotte from South Korea, and some others from the US have applied for licenses.
 
Former Trade Minister Truong Dinh Tuyen told delegates at a conference in Ha Noi yesterday that the retail system has not developed much, and blamed it on the lack of incentives from the Government.
 
Businesses in trading and retail cannot access loans like manufacturers, he said.
 
Local administrations prefer to provide land for foreign rather than domestic retailers. For instance, Saigon Co-op wants to expand into Binh Duong Province near Ho Chi Minh City, but the province has not provided land since it is looking for foreign retailers, he added.
 
Dinh Thi My Loan, deputy chairwoman and general secretary of the Association of Vietnamese Retailers, had the same complaint. She said local firms can hardly find space to set up retail operations, while prime space is reserved for foreign firms.
 
She wanted local authorities to publicize the list of retailers seeking to open outlets in their area so that concerned agencies can proffer advice.
 
She also admitted, however, that local retailers cannot afford to compete with foreign rivals in leasing premium space.
 
Government, Retailers unprepared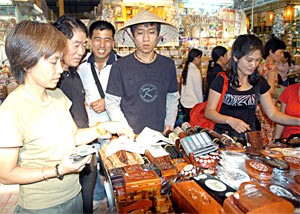 Foreign tourists shopping at Ben Thanh Market (Photo: SGGP)
Mr. Tuyen said though the WTO commitment to open up the retail market is similar to the commitments made under the Viet Nam-U.S. Bilateral Trade Agreement in 2001, the Government and firms have not prepared to take on the imminent competition.
 
To turn the challenges ahead into opportunities, Deputy Minister of Industry and Trade Nguyen Thanh Bien called on retailers to improve their competitiveness, develop long-term business strategies and risk strategies, and bolster management.
He urged retailers to focus on setting up modern distribution systems, developing human resources and, in particular, developing their managers' expertise.
Distribution and retail have achieved greater importance in recent years, and now account for more than 15 percent of the country's gross domestic product, he said.
It is necessary for policymakers to draft laws for retailing, including laws on product quality, food safety and hygiene, and consumer protection, he added.
Viet Nam is set to permit the establishment of 100 percent foreign-owned distribution and retail firms.
 
A number of global giants like Metro Cash & Carry, Casino, and Parkson are planning to expand their operations in a country where the retail market is forecast to boom from next year.