Viet Nam has strongly opposed the European Committee (EC)'s decision to maintain anti-dumping tariffs on its leather shoes, saying it has had a severe impact on Vietnamese shoemakers and their European importers and consumers.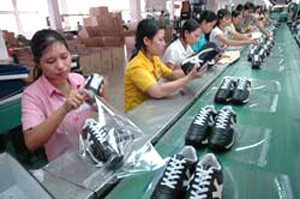 The EC's tariff decision has seriously affected the life of workers in the Vietnamese footwear industry
The EC slapped a 10 percent tariff on leather shoes imported from Viet Nam in 2006. This punitive tariff was set to expire on October 7, but the EC has decided to maintain tax for an additional 12-15 months while the policy is being reviewed.
 
"Viet Nam is disappointed with the EC's decision," Deputy Minister of Industry and Trade  Nguyen Thanh Bien said, warning it would have an adverse effect on trade and investment relations between Vietnamese and European firms.
He urged the EC to conduct fair and swift inspections and not extend the anti-dumping tariffs until the inspection is completed.

"Only by so doing can the European Committee help enterprises from both sides stabilize their production and business and give EU customers the chance to buy Viet Nam-made shoes at reasonable prices," he said.

The EU is the biggest importer of Vietnamese shoes but its purchase of Vietnamese leather shoes has dropped dramatically in the last two years due to the anti-dumping duties, he said.
 
The Vietnamese footwear industry has been put under double pressure by the EC's tariff decision and simultaneous removal of Viet Nam's footwear off the EU's Generalized System of Preferential list with effect from next year.
 
Mr. Bien called on shoe exporters to cooperate closely with EC investigators during the review period while diversifying their products and markets to limit the impact on their operations and workers' lives.
 
He promised assistance to leather footwear makers during the inspection period.
 
To help the footwear industry, the ministry's Department on Competition Management held a seminar on October 3 on the EU's current anti-dumping laws and to help footwear firms prepare for the review period.
The EC's tariff decision had been opposed by 15 out of 27 EU member-countries at a consultancy meeting held by the Anti-Dumping Committee on September 17.
A number of EU-based organizations also issued press releases to protest the policy, stressing it should not be applied considering the current global financial turmoil.
They said the protectionist policy benefited only a handful of uncompetitive enterprises and ran counter to the trend towards trade liberalization.
Related article:
Dumping tariffs on Viet Nam shoes to expire, EU considers extension