On May 9, 2006, Viet Nam is due to start another negotiation round with the US in Washington to join the World Trade Organization. The two sides expect to conclude their WTO talks in this round. Viet Nam has to wrap up its negotiations with the US this month if it is to join the WTO this year.
Vietnamese Trade Minister Truong Dinh Tuyen is present in Washington to instruct the Vietnamese negotiation delegation. Viet Nam has concluded WTO talks with 27 other partners, and the US is the final.
Deputy Trade Minister Luong Van Tu, head of the Vietnamese delegation, says it is hard for Viet Nam, with its developing economy at a low level, to meet the US's difficult requirements even when it is given a transitional period. Some of the US requirements are even harder than those of the WTO.
Many concessions from Viet Nam
Mr. Tu says during previous bilateral negotiations, Viet Nam has pledged to carry out a series of WTO agreements from the day becoming a member of this organization. They include the agreements on Trade-Related Aspects of Intellectual Property Rights (TRIPS), Trade-Related Investment Measures (TRIMS), customs pricing, technical barriers to trade, on Sanitary and Phytosanitary Measures (SPS), import licenses, and on anti-dumping.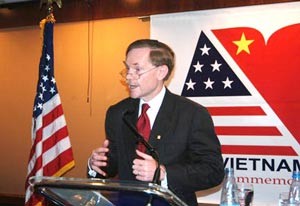 US Trade Representative Robert Zoellick, a VIP in Viet Nam-US WTO talks
In service, Viet Nam has opened 11 fields with 92 specific sub-fields, including important ones like business services, telecoms and finance. Ha Noi has pledged to adjust 99.3% of all tax lines, making the average lower than 18% and cutting fees down to almost 0%.
Analysts say Viet Nam has offered more pledges than some WTO members, both old and new. Just some problems still exist with the country in terms of business rights, Government subsidies, State-run companies, investment rules and tax policies.
An important pledge by Ha Noi so far is that the Government will stop export subsidies right after the country joins the WTO. However, Viet Nam wants to reserve the agricultural subsidies as other developing countries do.
Viet Nam's population is 83 million now but 60.4 million are living in agricultural areas. With 9.53 million hectares of farm land, the average for a person is 0.15 hectares. Another fact is that Vietnamese farm produce, in general, finds it hard to penetrate overseas markets, except for some commodities like rice, coffee, pepper and cashew nuts.
Final negotiation round or not
At present, both Viet Nam and the US are making great efforts for the best results from their WTO negotiations, says Mr. Nguyen Son, vice office manager of Viet Nam's National Committee for International Economic Cooperation. But problems still exist in telecoms, importation of heavy motorcycles from the US, sales taxes on beers and alcohols, the cap on foreign ownership in companies, subsidies for non-agriculture fields, protection of garment and textile products, and some others.
The US spends about US$70 billion importing fabrics and clothes a year, including just US$2 billion for Viet Nam, but the two countries still face problems in this field as the US wants to protect its garment, textile companies against exporters.
Issues in telecoms and non-agriculture subsidies are considered more difficult because Viet Nam is facing problems in making statistics of industrial subsidies, and the US wants Viet Nam to open the telecoms market wider.
However, Vietnamese Trade Minister Truong Dinh Tuyen is optimistic, saying that the two sides has made great progress in narrowing down the gap and are quite likely to wrap up their negotiations in this round. If so, Viet Nam will join the WTO this year.