A workshop called "Viet Nam: Challenges from Foreign Investment" was held today by the US-based Citigroup in Ho Chi Minh City.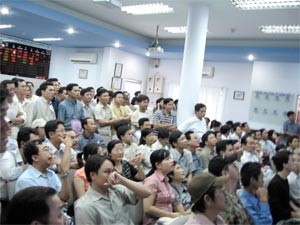 A big volume of foreign investment recently has heated up the local stock market (Photo: Tuong Chau)
After talks by a Citigroup's economist and a local official from the Institute for Economic Research which analyzed the latest movement of Viet Nam's economy, participants including economists and businessmen had a discussion on challenges from foreign investment and how to manage it effectively.
After the success of APEC (Asia-Pacific Economic Cooperation) Summit and joining the World Trade Organization, Viet Nam is being eyed by the world. Dozens of foreign investors poured money into the country, heating up the local stock market.
At the workshop, many businessmen and economists suggested that the government improve the capability of local banks and the stock market, so that they can manage foreign investment effectively.