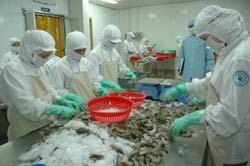 Shrimps are processed at a local factory.
Viet Nam plans to import aquatic materials from 40 countries and territories with a total turnover of US$90-100 million annually, said Ministry of Fishery.
According to Minister of Fisheries Ta Quang Ngoc, although Viet Nam's aquatic products have been exported to many international markets, the country still has to import raw materials for processing and domestic consumption.
Viet Nam's total import turnover of aquatic products is expectedly to be around US$90-100 million annually, equal to 4-5% of the country's aquatic export turnover.
Currently, aquatic items imported to Viet Nam from 40 countries and territories are frozen shrimp and fish, fresh and frozen salmon, canned fish, oyster and clam, among which frozen shrimp and fish respectively account for 70% and 10-16% of the import turnover.