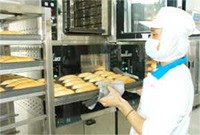 Producing bread at Duc Phat company
Ho Chi Minh City's Duc Phat Bakery private enterprise has exported bread to Japan after a year of trial production and trade promotion activities.
The company has exported six 20-feet containers of bread per month on the average to Japan. The Duc Phat Bakery is Viet Nam's first exported trademark of bread.
 
The exported bread is made with French technology. The company imported a US$200,000 production line with a capacity to produce 40,000 loaves of bread per day.