Vinashin Container Joint Venture Company (TGC) has started up the nation's first container production operations in Lai Vu Commune, Kim Thanh District, Hai Duong Province, up north.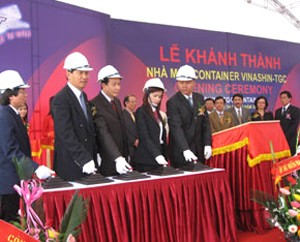 At the inauguration ceremony
The joint venture comprised of Viet Nam Shipbuilding Industry Corporation (Vinashin) and Toong Goen Enterprises of Taiwan has invested US$30 million to date in the project's first phase.
The 150,000-square-meter plant is to have a capacity of 45,000 TEU (twenty feet equivalent units) a year and be capable of meeting increasing demand from both local and international fleets operating in Viet Nam. Over 80 percent of produced containers are to be exported.
Capacity is to be upgraded to 100,000 TEU a year in the project's second phase.
According to TGC Director Dao Van Binh, the local demand for containers is likely to increase to around 100,000-135,000 TEU by 2010.
The plant is expected to not only reduce transport costs for local businesses but also generate about 1,000 jobs in Hai Duong.