VietJet Aviation Joint Stock Co (VietJetAir) became the first privately-owned airline in Viet Nam after receiving its operating license from the Ministry of Transport yesterday.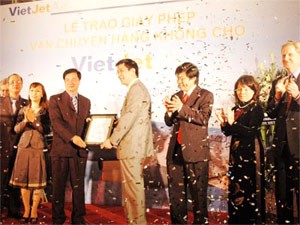 At the license presentation ceremony
VND600-billion (US$37.5-million) VietJetAir is owned by a variety of Vietnamese organizations including T&C Group, Sovico Group and the Housing Development Bank (HD Bank).

VietJetAir's first commercial flight will take off in late 2008 or early 2009 with domestic flights between Ha Noi, Ho Chi Minh City and Da Nang on Boeing 737 or Airbus A320 passenger liners.

Later, routes are to be added between Ha Noi, Da Nang, Nha Trang, Da Lat, Hai Phong and Hue.

The airline plans to serve regional destinations, including Hong Kong, Bangkok and Singapore, pending regulatory approval.

VietJetAir Chairman Nguyen Cong Thanh described the licensing as a breakthrough in Viet Nam's aviation industry.

Transport Minister Ho Nghia Dung said, "The birth of VietJetAir is part of our strategy to encourage the private sector to participate in aviation in order to help the industry develop and become more competitive."

The country's airline growth is one of the fastest in Asia, with average growth of 20 percent per annum over the last few years.

VietJetAir Managing Director Robert Hughes said aviation will see faster growth in the next few years due to a developing economy and increasing tourist demand.

The carrier plans to diversify ticket distribution channels, including having half of all tickets sold thorough the Internet, said Hughes.