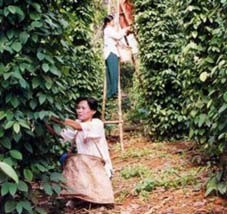 Farmers take care of pepper trees in Viet Nam
Viet Nam exported 110,000 tons of pepper in 2005, earning US$152 million, according to Viet Nam Pepper Association. Of the export volume, 35% is high-quality white pepper.
Currently Vietnamese pepper holds 50% of the world market in terms of amount and is exported to 73 countries, mostly the U.S., European and the Middle East countries. However, Viet Nam's pepper prices per ton are hundreds of U.S. dollars lower than those of other countries.
According to the Viet Nam Pepper Association, stable world prices of pepper in 2005 have promised good prospects for pepper producers and exporters in 2006.
In 2004, Viet Nam shipped 112,000 tons of pepper to overseas markets.